Godly Play is a gentle, reverential, and experiential method of faith formation that is based upon the Montessori method. Developed by an Episcopal priest, Godly Play teaches children the art of using religious language – parable, sacred story, silence, and liturgical action – to help them become more fully aware of the mystery of God's presence in their lives. Each class session follows the pattern of the church's Sunday service, so children will have a deeper understanding and enjoy fuller participation in the parish worship.  Classes follow the pattern of getting ready (Opening Acclamation), listening and responding to a Bible story (The Holy Communion), and saying good-bye (Blessing and Dismissal). Godly Play creates a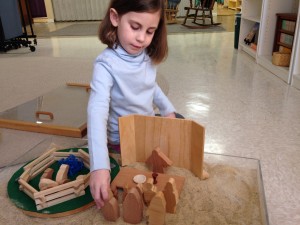 safe space for children – a place where their ideas, opinions, and gifts are deeply respected.
Children from preschool through fifth grade are welcomed to church on Sunday morning with a gathering at Children's Chapel. Here, they are invited to sing songs, pray, and bring offerings of food or pocket change to support our St. Ann's Essentials Pantry. Children move to their classrooms at the conclusion of Children's Chapel.